Communication Board Giveaway Entry Page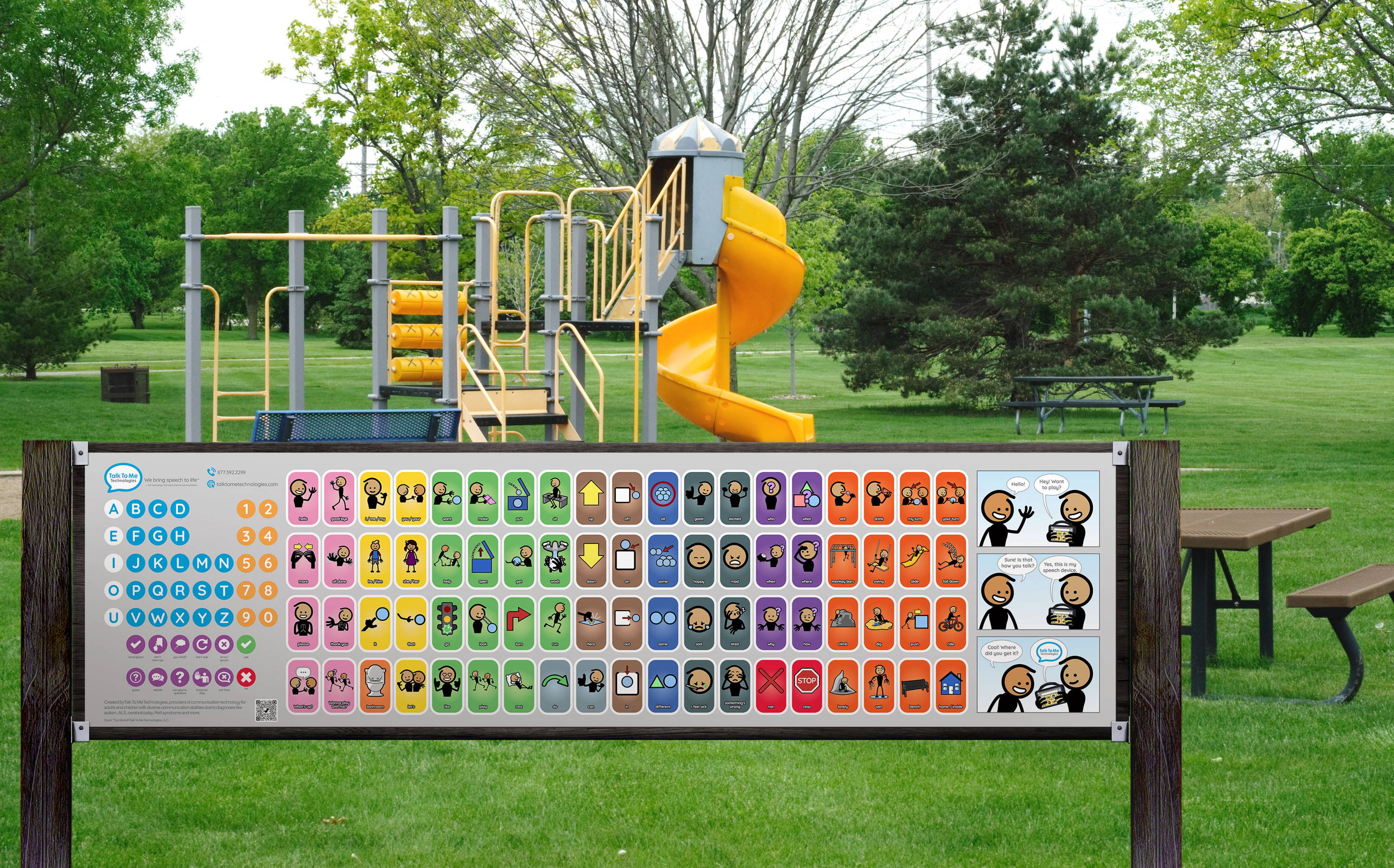 View our available Communication Boards for parks, playgrounds, schools, and more
Communication Board Giveaway Official Rules
Talk To Me Technologies, LLC
Entrants can fill out the registration form. Only one entry per person per event on the main registration form will be allowed.
Eligibility
Talk To Me Technologies, LLC "Communication Board Giveaway" is open to legal residents of the 50 United States and the District of Columbia who are at least eighteen (18) years old at the time of entry (the beneficiary of the prize may be younger). Participation in the "Communication Board Giveaway" sweepstakes constitutes entrant's full and unconditional agreement to and acceptance of these official rules. Winning a prize is contingent upon being compliant with these official rules and fulfilling all other requirements.
Main Contest Entry
In order to win, you must complete the official online contest registration form. All registrations must be submitted via the official contest entry page. No email or mail submissions will be accepted. Once you have submitted your entry you will not be able to change it. Registration will consist of a number of required fields and will include name, email address, phone number, organization, street address and more required fields. By submitting an entry, the organization grants Talk To Me Technologies, LLC the right to publish anything submitted on the entry form on Talk To Me Technologies, LLC website and/or marketing materials. Copy edits may be made by our staff.
*Prize Value
Prize packages are valued at approximately $129 (one vinyl communication board).
Winners
After the conference or event, a drawing will be held to determine the winners of the "Communication Board Giveaway". Upon delivery of the prizes, the winners are required to submit a photo & video of the communication board being used to communicate, along with a testimonial about their new board.
Notification
The winners will be notified by any single or combination of the following methods; a) by email, b) by phone, c) in person.
If Talk To Me Technologies is not able to contact a winner by phone, email, or in person within 5 business days, a new winner will be chosen.
If a winner is unable to confirm that they will accept the prize within 5 days after contact, a new winner will be chosen.
Prize Delivery
The winners of the "Communication Board Giveaway" will receive their package approximately 6-8 weeks or later after the end of the contest. Winners will not be charged for shipping.
Additional Legal Notes
Talk To Me Technologies, LLC is not responsible for technical problems or difficulties experienced with the submission or collection of entries during the contest and can't provide technical support to assist with contest entries. This contest is void where prohibited by law. The contestants assume the total responsibility of knowing their local laws in regard to contests and are subject to any local, state, national or international laws. Talk To Me Technologies, LLC accepts no responsibility for making these individual legal determinations. Finalists are solely responsible for any taxes on their respective prizes and will receive an IRS Form 1099 for the taxable value of their prize. No substitution of prize is offered, except at the sole discretion of Talk To Me Technologies, LLC. Prizes are non-transferable. Unclaimed prizes will not be awarded. If a prize, or any portion thereof, cannot be awarded for any reason, Talk To Me Technologies, LLC reserves the right to substitute prize with another prize of equal or greater value.
*Prize package values:
Vinyl Communication Board value: $129
Talk To Me Technologies, LLC reserves the right to alter the terms of the contest or substitute prizes and values at any time without notice (including, but not limited to any of the above).
Talk To Me Technologies complies with applicable federal civil rights laws and does not discriminate on the basis of race, color, national origin, age, disability, or sex.